Fundraising 101 for Founders: Turning Your Nonprofit Dreams into Reality
Hey there, fearless founders! Congratulations on reaching Step 8 of the Build a Nonprofit Success plan – it's time to dive into the exciting world of fundraising. 🎉 Whether you're launching a new initiative or already have a 501(c)(3) status, fundraising is the engine that powers your nonprofit's impact. So, let's roll up our sleeves and explore fundraising basics in this friendly guide.
What is Fundraising, and Why Does it Matter?
Simply put, fundraising is the art of raising money to support your nonprofit's mission. It's like the fuel that keeps your nonprofit's engine running, helping you bring your vision to life. Every dollar you raise goes towards your programs, activities, and projects that make a positive difference in the world. Think of it as an investment in your cause!
Setting the Stage: Your Fundraising Toolkit
Before you dive headfirst into fundraising, it's essential to have a solid toolkit ready. Here's what you'll need:
Compelling Story:

Craft a heartfelt narrative explaining your nonprofit's mission, why it matters, and the impact you aim to create. People connect with stories, so make them relatable and inspiring.
Clear Goals:

Define what you'll use the funds for. Are you launching a community project? Expanding your services? Having clear goals helps donors understand where their money is going.
Budget:

Create a detailed budget that outlines how much money you need and how you'll allocate it. Transparency is key in building trust with potential donors.
Donor Personas:

Understand your potential donors. What drives them to support a cause? Tailor your approach to resonate with their motivations.
Online Presence:

In today's digital age, a website and active social media profiles must be necessary. Share your mission, success stories, and fundraising campaigns online to reach a broader audience.
Fundraising Strategies: Diving into the Options
Individual Donations:

These are contributions from everyday people who believe in your cause. Create a user-friendly online donation platform and promote it through your network.
Events:

Host charity dinners, auctions, or workshops. Events create engagement, allowing donors to interact with your cause personally.
Grants:

Research and apply for grants from foundations, government agencies, and corporations that align with your mission.
Corporate Partnerships:

Collaborate with businesses that share your values. They might sponsor your events or donate a portion of their profits.
Online Campaigns:

Launch crowdfunding campaigns on platforms like GoFundMe or Kickstarter. Leverage social media to spread the word and encourage donations.
The Power of Personal Connections: Building Relationships
Remember, fundraising is not just about money but building relationships. Cultivate a community of supporters who feel emotionally invested in your cause. Here's how:
Thank and Update:

Show gratitude for every donation, no matter how small. Regularly update donors on your progress and the impact of their contributions.
Personal Touch:

Reach out to donors individually. A personalized email or message goes a long way in showing appreciation.
Engagement Events:

Host donor appreciation events to connect face-to-face. It's a chance to share success stories and plans.
Stay Committed and Be Creative
Fundraising can be a rollercoaster, with highs and lows. Stay committed to your mission and be bold and get creative. Think outside the box – try new fundraising ideas, collaborate with other nonprofits, and adapt your strategies based on what works best for your audience.
Ready to Soar? Let's Fundraise!
You've got this, founders! Fundraising might seem like a big task, but remember that every dollar you raise brings you one step closer to creating the change you want to see in the world. Stay passionate, stay persistent, and watch your nonprofit thrive.
Remember, this guide is just the beginning. There's a whole world of fundraising strategies and techniques to explore. So, go out there and make a difference – one donation at a time! 🌟
Resources to Help with Fundraising
Learn how to overcome the fear of rejection when seeking funding for your nonprofit organization. Gain valuable insights and practical tips from an expert in founding and building nonprofits.
read more
As a nonprofit founder, you are committed to providing your community with vital resources and services. However, running a nonprofit organization requires more than just passion and dedication. You need to ensure that you have adequate funds to carry out your...
read more
From the outside looking in, it can seem like nonprofits have it all. They are making a huge difference in the world, have a fantastic mission, and often receive donations and assistance to support their endeavors -- but for many nonprofits, it's a struggle to fund...
read more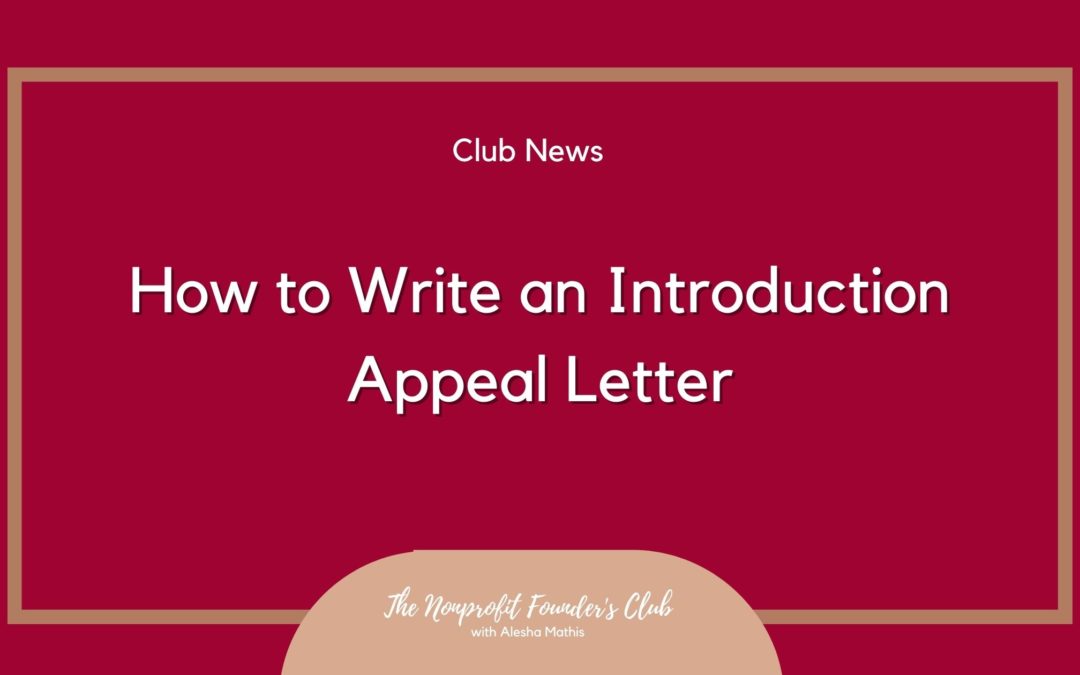 The end of the year is the best time to ask for money. In the last post, we talked about what an Introduction Appeal Letter is and why it's a good strategy when you are new. If you haven't taken a look at it, then I encourage you to go back to the post. Let's talk...
read more
I was a Board member of a new nonprofit when the concept of an Introduction Appeal Letter came to me. Getting donations was something that was now on our list of challenges. I had been in a larger nonprofit where we sent out appeal letters. My letters normally...
read more
I find when Founders have misconceptions about nonprofits and grant writing, they make some serious mistakes. When I was writing grants, these were the mistakes Founders made and the misconceptions that led to those mistakes. Understanding these misconceptions is the...
Many nonprofit Founders find fundraising confusing, hard, and quite honestly there is so much else to do that fundraising takes a backseat until it can't be ignored. When they finally get serious about fundraising they find they have fallen into a fundraising model...
Fundraising is hard. It's even harder when you hold onto beliefs that don't serve you. I know. I've been there. I've had beliefs about donors and asking for donations that held me back from raising money. The thing is- our beliefs don't always reflect reality....